"Comprehensive Worldviews": Zweite Tagung des German Pragmatism Network (GerPragNet), 1.-3. Juni 2023 in Koblenz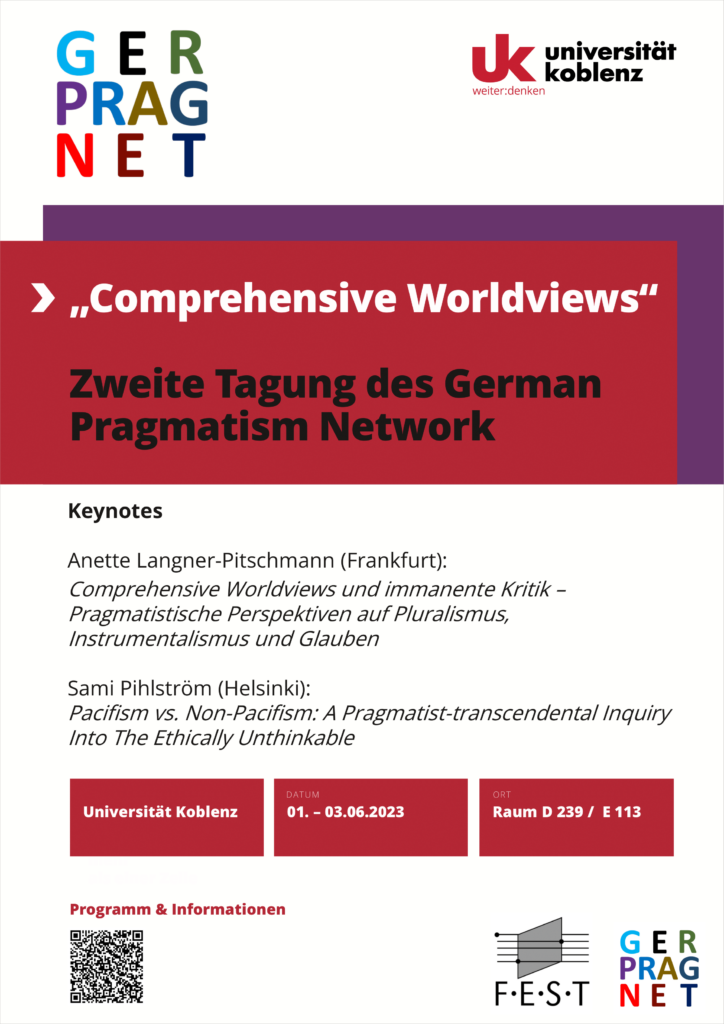 Menschen neigen dazu, sich in ein mehr oder minder artikuliertes Verhältnis zum Ganzen ihrer erfahrbaren Wirklichkeit zu setzen und entwickeln dabei Religionen und Weltanschauungen unterschiedlichster Art, können aber auch zu der Idee einer integrativen Gesamtperspektive ein höchst kritisches oder ablehnendes Verhältnis entwickeln. In beiden Fällen artikulieren sie Erfahrungen vor dem Hintergrund einer qualitativen Weltbeziehung.
Unter den klassischen Pragmatisten haben sich besonders William James und John Dewey, in einer sehr speziellen Perspektive auch Charles Peirce, mit diesem hartnäckigen, vielleicht nicht universellen, aber doch weit verbreiteten menschlichen Bedürfnis beschäftigt.
In jedem Fall, so die Idee hinter der Tagung, stellt der klassische Pragmatismus reichhaltige Ressourcen zur reflexiven Auseinandersetzung mit dem skizzierten Thema bereit, die die etablierten Diskurse bereichern und verändern können, insbesondere dadurch, dass von einem differenzierten Erfahrungsbegriff und den Bedingungen und Grenzen seiner Ausweitung auf die Wirklichkeit im Ganzen ausgegangen wird.
Als Keynote-Speaker konnten wir Prof.'in Dr. Annette Langner-Pitschmann (Goethe-Universität Frankfurt a.M., Professur für Theologie in globalisierter Gegenwart) und Prof. Dr. Sami Pihlström (Universität Helsinki, Professor für Philosophie der Religion) gewinnen.
Weitere Informationen zur Tagung finden Sie hier.
---
About GerPragNet:
Since its beginnings in late 19th century, philosophical pragmatism not only gained the reputation of being the first genuine american philosophy, but became a fruitful starting point for re-thinking methodological standards and perennial problems throughout the humanities. Thus, the ideas of classical pragmatist thinkers like C.S.Peirce, William James, John Dewey or Jane Adams influenced and inspired scholars and movements beyond the realm of American academia. Having started a yet unfinished agenda of transforming philosophy, science, and even society itself, the insights of pragmatism continue to be of interest for thinkers of diverse disciplines. Today, its implications and potentials are subject to an increasing number of workshops, conferences and publications.
The German Pragmatism Network, initiated in 2017, aims at making those activities in German speaking countries more visible. Its intention is to enable exchange between affiliated working groups and members. It promotes research in the field of philosophical pragmatism by bringing together a variety of scholarly perspectives and supporting cooperations inside and outside the network.